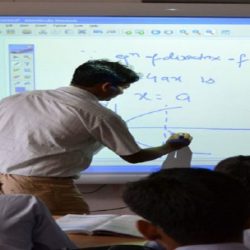 We have a wide range of digital courses and exam preparation classes to help students to achieve their goals. The Greenway school itself is bright with a vibrant atmosphere and our classrooms are equipped with electronic teaching aids so that students take benefits of the latest technologies; there is even the chance for students to use smartphones and tablets for online quizzes during lessons. Students will have access to our virtual learning environment with our own study plan, weekly news lessons, and exam practice.
We have Smart Class Category idea also in practice. What might otherwise seem boring or boring with just textbooks research, becomes shiny, and fascinating in the display and movement films, which re-affirm the ideas already trained in class.
This makes the process of learning fun and also guarantees the long long-term effect on the tech-savvy thoughts of today's creation and our generations.