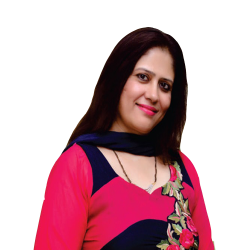 Our Endeavor Is To Nurture Holistic World Citizens, Who Are Driven By Human Values And Equipped To Excel On A Global Stage.
– Mala Chauhan
"Excellence In All Things"
Hon. Principal
Greenway Modern School, Roorkee
(Roorkee City Branch)
Vice President
Mrs. Mala Chauhan the principal of Greenway Modern School Roorkee, belongs to a family of educators from Delhi, who have Schools of Great repute in Delhi and Gurugram.
Her dedication, integrity and hard work have made Greenway School Roorkee a great center of learning. Her long journey as Principal started in 1993, with the handful of students. Today she can look back with great satisfaction that Greenway School Roorkee is considered as one of the topmost school of Roorkee. It is one of the largest schools in an around Roorkee.
Greenway Modern School caters to the education of nearly 3000 thousand students from Montessori to class 12th (CBSE). She is striving hard to take the school to greater heights of achievement.
Over the years Mrs. Mala Chauhan has rendered Yeomen Service to the so Society by providing quality education to her students.